IObox
Compact but solid network interface modules.
Do you want physical interfaces and devices to be part of an interactive AV installation? Our compact and smart IObox hardware modules interface to switching inputs, outputs, DMX and serial devices and make them accessible from control device or media servers. Made for 24/7 use.
Solid state hardware
The IObox hardware platform is a full solid state design. Small form factor, low power consumption, PoE (Power over Ethernet) and a clever software solution were our primary design goals during the development process.
Available modules
Configuration via web interface
All IObox hardware is equipped with a built in web configuration tool which allows quick and easy access to the device configuration settings. The web interface also provides information about the resource usage and includes the licensing functionality for upgrading to IObox Pro.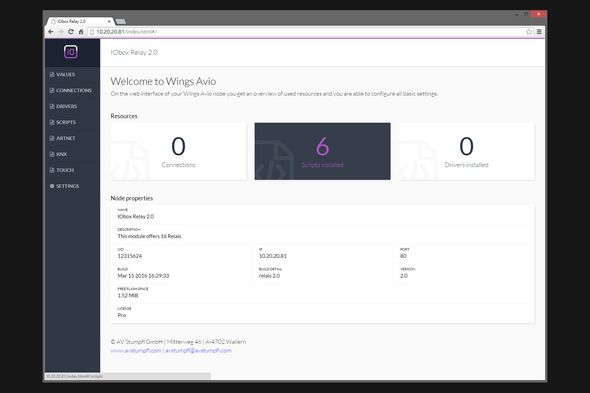 Intuitive system integration
Seamless Avio integration
Our IObox modules integrate seamlessly into the Avio network. Using the software Avio Manager 2 the IObox in- and outputs are graphically "wired" to any other device in- and outputs within the Avio network. This unique workflow for creating AV control networks has been awarded with an InAVation award in 2016.
All settings are stored onto a SD card by the IObox which allows them to be transferred directly to another IObox later on or simply for backup reasons. If a device needs to be replaced, thanks to the information on the SD card the IObox can immediately be set up correctly and is ready for further use.
During the preparation and programming phase of complex network structures it is not always possible to connect all the components as they might not be already available. It is therefore possible to software-simulate every module so it only needs to be connected later on.
IObox also feature an open ASCII control port to allow the interfacing of IObox devices with non-Avio products.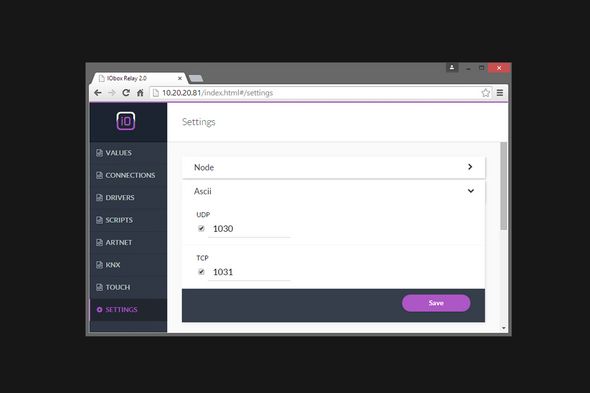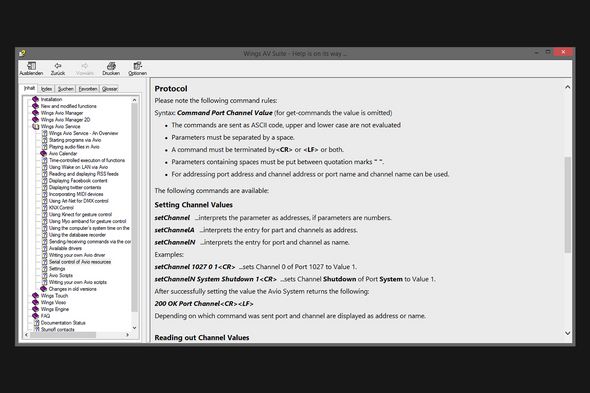 | | | |
| --- | --- | --- |
| | IObox modules: Serial, Remote, Relay, DMX | IObox Pro modules: Serial, Remote, Relay, DMX |
| Dimensions | 98 x 34 x 137 mm | 98 x 34 x 137 mm |
| Weight | 0,24 kg | 0,24 kg |
| PoE or 12V PSU | X | X |
| Web GUI | X | X |
| Avio control interface | X | X |
| Lua scripts | - | 20 |
| KNX interface (via IP/Interface or IP/Router) | - | X |
| Touch project hosting (HTML5 web technology) | - | 1 |
| Device drivers(IP Netzwerk, UDP or TCP) | - | 10 |
| Physical ports "Serial" module | 4 RS232 connectors including 4 RS232 device drivers | 4 RS232 connectors including 4 RS232 device drivers |
| Physical ports "Remote" module | 16 digital inputs (2-24VDC) | 16 digital inputs (2-24VDC) |
| Physical ports "Relay" module | 16 relay switching outputs (30VDC, 48VAC, 1,5A) | 16 relay switching outputs (30VDC, 48VAC, 1,5A) |
| Physical ports "DMX" module | 1 DMX 512 input, 1 DMX 512 output (3 pin XLR connectors) | 1 DMX 512 input, 1 DMX 512 output(3 pin XLR connectors) |
| | | |