PIXERA control Online Overview
23rd + 24th of October 2023 | Language: English | 09:30 - 11:00 am (CET) | 03:30 - 05:00 am (EST) | 04:30 - 06:00 pm (JST)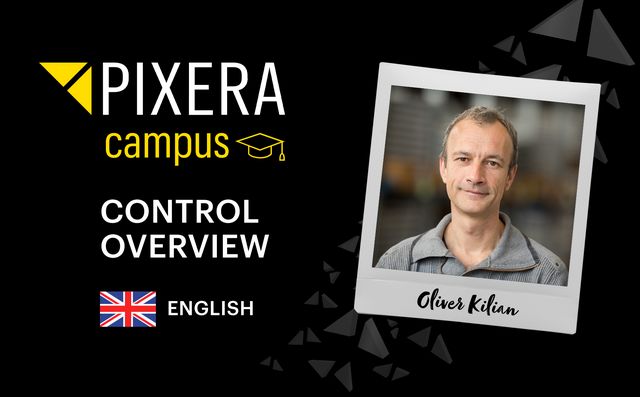 Description
Join us on a tour of PIXERA control and all of its possibilities for remoting PIXERA or other 3rd party products. Find out why PIXERA control is an amazing tool for the creation of touch surfaces and interactions between user and advanced AV system designs.

Agenda:
Layout of PIXERA control
Creating a web based user interface
Remote control PIXERA with buttons, sliders and playlists
Style your user interface with onboard tools and CSS
Multiple page setups
Remote control PJLink projectors
Remote control projector shutter from the timeline
Other remoting capabilities and tricks by the example of OSC
General Information:
Our PIXERA Online Trainings are held via Microsoft Teams. If you already have an existing account or a Microsoft email address, please use this one when registering for our training. However, it is not necessary to have an account or Teams before the training. You will receive further information once you registered.
Furthermore, PIXERA is only available for Windows. If you want to use PIXERA on macOS you need to do it via Bootcamp. However, since we cannot test it, we cannot guarantee support for macOS.
Program/Schedule
23rd + 24th of October 2023 | Language: English |
09:30 - 11:00 am (CET) | 03:30 - 05:00 am (EST) | 04:30 - 06:00 pm (JST)
Start date
23. October 2023 - 09:30
End date
24. October 2023 - 11:00
Location Title
Microsoft Teams
Back to listview
Registration