Live. Realtime. Playback. On any Display.
Setting up scenes for live events has never been easier: Create picture-in-picture layouts and live control media playback using either a live player/layer concept or multiple timelines. Our media servers are the perfect platform for Vioso RXs media serving capabilities such as low delay 3G-SDI/DVI live inputs or uncompressed video playback.
Media content can be assigned to an infinite number of live player layers. Every layer can have its content organized in a playlist. Each layer can be assigned to a predefined PiP layout or freely positioned on the screen. Typically all controls of the live players such as alpha, position, rotation or zoom are connected to a console via Art-Net, DMX or MIDI, but they can also be controlled from a customized touch interface.
Did you ever experience how tricky it is to convert high resolution images or videos to use them in your live system? Vioso RX can handle all contents even if they exceed the maximum texture dimensions of the GPU since such images are automatically split into multiple textures in the background without loosing quality. Media with alpha channels can also be used and multi display video content can be automatically converted into Vioso RX's intermediate video format, which allows decoding and playback of video content beyond 8K resolution using multiple CPU cores. This also applies to all editing and live rendering functions.
Have you ever thought about how cool it would be if parts of the agenda during a show could already be prepared before the show starts? Such preprogrammed show elements could be e.g. speaker names and PiP layout, introduction videos or backgrounds. Vioso RX supports virtually any number of timelines.
Create and Edit Titles during Runtime. No Rendering Required.
You quickly need some headlines or change speaker names during the show? You do not want to run your graphics software all the time you need to create text labels? Create texts or text animations in the built-in title creator of Vioso RX in just a few steps.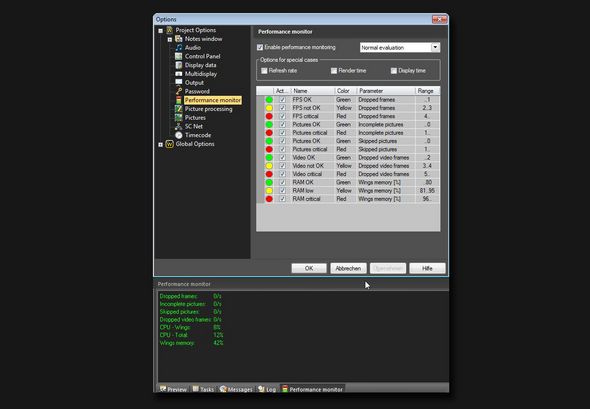 Vioso RX has a built-in performance monitor which is constantly checking the system's resource usage. During the preparation stage of the show it is possible to intuitively determine which sections are causing performance issues using a three color code.
Live Effects and Video Masks
Create Cool Backgrounds or Transitions. Simple but Sophisticated.
Vioso RX comes with a lot of built-in shader effects for automatic background generation, media transition or video processing. Of course alpha masking is also supported: Not just for still images but also for videos, which can be used to create really remarkable effects.
Vioso RX has the perfect functionality for a smooth combination between live shows and superbly composed presentations. 3G-SDI live video inputs, pace and flow control of the presentation, free running audio and video playback for background music or backdrops ensure impressive live events. Of course all media effects and realtime controls can also be applied to the live signals.
Robust. Reliable. Powerful. Live. Installed.
Our award winning media servers are used in numerous different applications ranging from live shows and events to interactive and themed attractions. These servers can do more than just playing media: They are used for content production and show design, interactive live presentations and control various devices and systems. Thanks to our unique Vioso RX automatic camera based calibration system setting up multi projector arrangements has never been easier.

Learn more about our Media Servers
If our media servers are used in live event environments any number of picture in picture (PiP) areas can be defined and combined e.g. with automatically generated backgrounds or CI designs of the client. Text overlays showing speaker names or agenda notes can also be included.